The Accelerator is Tech Against Trafficking's flagship program. It is a collaborative program to advance and scale the work of selected organizations with promising technology solutions by providing potential resources and support from our Tech Against Trafficking member companies, while building an ecosystem of actors that will provide ongoing support for the participant organizations over the course of the Accelerator.
The Tech Against Trafficking Accelerator is a fixed-term, cohort-based program intended to help organizations deploying promising technological solutions accelerate the development, impact and utilization of their tools.
The Accelerator connects participating organizations with expertise, resources and support of the Tech Against Trafficking members companies, expediting operational processes and technical advancements that facilitate scale and optimize for long-term sustainability.
Stay tuned for updates on the 2021 Tech Against Trafficking Accelerator. Here is some information about our 2019 Accelerator program.
Tech Against Trafficking invited the Counter-Trafficking Data Collaborative (CTDC), an initiative of the international Organization for Migration (IOM), to participate in the inaugural Summer 2019 Accelerator Program.
The CTDC is a global human trafficking data hub, publishing harmonized data from counter-trafficking organizations around the world. The goal is to reduce barriers to information-sharing and provide a mechanism for organizations to get data to public and policy audiences. In addition, CTDC helps to build a more complete picture of counter-trafficking trends based on up-to-date, reliable, and standardized data on human trafficking. CTDC hopes to further develop its partnership engagement process and continue to explore and promote best practices around data anonymization, privacy and security.
THE IMPACT
Over the course of the Accelerator, TAT and CTDC partnered on workstreams related to privacy-preserving mechanisms, data standards, and increased platform engagement.
The privacy preserving workstream sought to develop a solution for analyzing case data while protecting victim privacy. The solution uses machine learning to generate a synthetic dataset which represent statistical properties of the sensitive dataset rather than actual (potentially identifiable) individuals, precomputes them in a way that doesn't reveal small or precise counts (which may also be identifying), and creates a data interface that allows the user to explore the structure of the data. This solution is now being applied to the full IOM dataset and has been published and made available to the field, setting a new privacy standard for the analysis of human trafficking data.
The data standards workstream addressed data standards/consistency across the field by publishing a global data standard related to victim case management. The new Human Trafficking Case Data Standard (HTCDS) was developed and published, along with guidance for its implementation. The TAT team also worked with a new Indian case management service (Pathways) to apply the standard during its development, providing initial support for 10 NGOs in 2020. This is expected to extend to at least 25 NGOs during November 2020. HTCDS will attract data contributions and partnerships from across the anti-trafficking sector which should enable efficiencies in data analysis, case processes such as referrals and data privacy.
The stakeholder engagement workstream interviewed stakeholders and prospective CTDC data contributors to better understand the value stakeholders derive from the CTDC platform, what additional data, trends, or information stakeholders would find helpful, and what data or information different stakeholders could feed into CTDC's current dataset and platform. Feedback from the interviews informed specific recommendations on how CTDC can improve the user experience and expand its strategy and offerings to partners. In addition, the workstream refreshed CTDC outreach materials to help improve engagement with dataset owners, show the value of contributing data to CTDC, and optimize the onboarding process for new datasets.
This work has had an indelible impact on CTDC and IOM writ large. As stated by Harry Cook, Data Management and Research Specialist, at IOM, "The CTDC team was delighted to take part in the Accelerator and greatly appreciated the opportunity to get perspective and support from technology sector professionals. Their contribution will have a lasting impact on CTDC and the counter-trafficking community."
Applying for the Accelerator
Diverse technological solutions are needed to advance innovative strategies to address human trafficking. Through an open and collaborative process, Tech Against Trafficking is looking to engage with tech initiatives and tools across all geographies, languages, sectors, and methods of application.
These solutions can be at any stage of post-concept development by must be tech-centered initiatives or tools. Below are four relevant stages of development: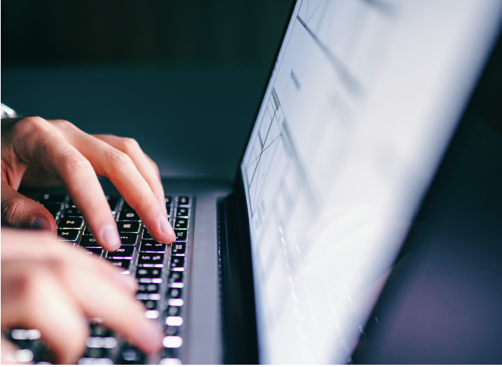 Prototype:

An initiative or tool in the building and testing phase.

Pilot:

An initiative or tool already deployed and being used in a specific geography and/ or community.

Mezzanine:

An established initiative or tool that has a proven track record and opportunity for greater scale across multiple geographies and/or communities

Mature

A largely self-sustaining initiative or tool with active operations in several geographies and/or communities, looking to work towards a global impact
Does your tool meet the above criteria and could benefit from the Accelerator program? If so, please fill out the form below to apply